ASEAN's Role in the Threat of Global Economic Decoupling: Implications from Geographical Simulation Analysis
Editor(s)/Author(s) :
- 2 February 2023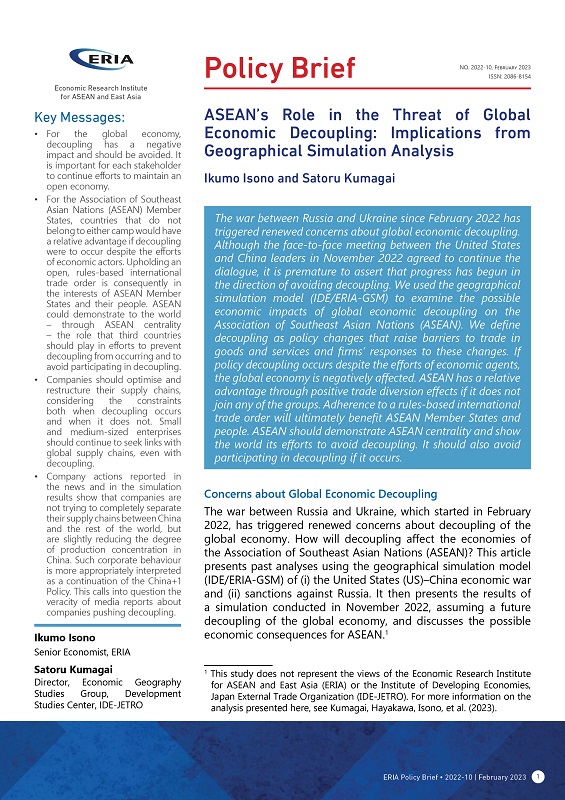 The war between Russia and Ukraine since February 2022 has triggered renewed concerns about global economic decoupling. Although the face-to-face meeting between the United States and China leaders in November 2022 agreed to continue the dialogue, it is premature to assert that progress has begun in the direction of avoiding decoupling. We used the geographical simulation model (IDE/ERIA-GSM) to examine the possible economic impacts of global economic decoupling on the Association of Southeast Asian Nations (ASEAN). We define decoupling as policy changes that raise barriers to trade in goods and services and firms' responses to these changes. If policy decoupling occurs despite the efforts of economic agents, the global economy is negatively affected. ASEAN has a relative advantage through positive trade diversion effects if it does not join any of the groups. Adherence to a rules-based international trade order will ultimately benefit ASEAN Member States and people. ASEAN should demonstrate ASEAN centrality and show the world its efforts to avoid decoupling. It should also avoid participating in decoupling if it occurs.
ASEAN's Role in the Threat of Global Economic Decoupling: Implications from Geographical Simulation Analysis