Demand and Supply Potential of Hydrogen Energy in East Asia ' Phase 3
Editor(s)/Author(s) :
- 17 June 2022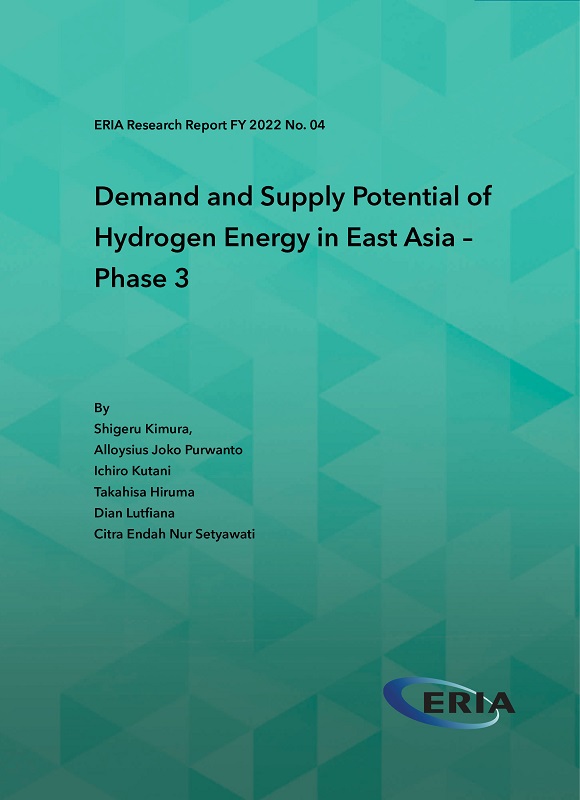 The Hydrogen Demand and Supply Potential Study: Phase 3 assesses and forecasts hydrogen production potential using unused or unutilised energy, which are hydropower sources in isolated areas, gas flared at oil and gas production sites, and low-ranked coal in the East Asia Summit (EAS) region. According to the phase-3 study, this hydrogen production potential is not significant due to limited unused energy sources, but the unused energy does not affect the existing energy supply system. Using unused energy makes sense at the initial commercial stage of hydrogen production, therefore. The study also seeks to identify optimal hydrogen supply networks in the EAS region applying the Liner Programming method. This analysis assesses two modes of hydrogen transport – MCH (Methylcyclohexane) and LH2 (Liquid hydrogen), of which LH2 seems to have more benefits in cases of long distances and large hydrogen transportation volumes. As part of this study, regular EAS hydrogen working group meetings were held to share the hydrogen policies of EAS countries, which it is hoped will contribute to achieving a carbon-neutral society by 2050 and identifying issues and challenges surrounding hydrogen technology development. Moreover, two workshops were held to share the key results of the hydrogen potential study phases 1–3 in India and Malaysia with a view to improving a common understanding of hydrogen.
Full Report
Demand and Supply Potential of Hydrogen Energy in East Asia – Phase 3
Contents
Chapter 2 Hydrogen Supply Potential
Chapter 3 Optimal Hydrogen Supply Chain in East Asia
Chapter 4 East Asia Summit Hydrogen Working Group Meetings