Geographical Simulation Analysis for CADP 3.0
Editor(s)/Author(s) :
- 11 January 2023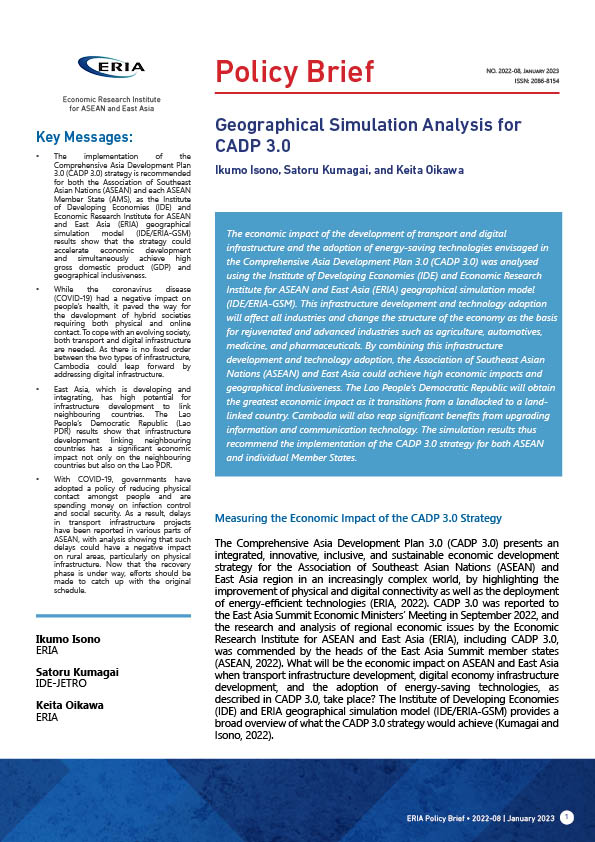 The economic impact of the development of transport and digital infrastructure and the adoption of energy-saving technologies envisaged in the Comprehensive Asia Development Plan 3.0 (CADP 3.0) was analysed using the Institute of Developing Economies (IDE) and Economic Research Institute for ASEAN and East Asia (ERIA) geographical simulation model (IDE/ERIA-GSM). This infrastructure development and technology adoption will affect all industries and change the structure of the economy as the basis for rejuvenated and advanced industries such as agriculture, automotives, medicine, and pharmaceuticals. By combining this infrastructure development and technology adoption, the Association of Southeast Asian Nations (ASEAN) and East Asia could achieve high economic impacts and geographical inclusiveness. The Lao People's Democratic Republic will obtain the greatest economic impact as it transitions from a landlocked to a land-linked country. Cambodia will also reap significant benefits from upgrading information and communication technology. The simulation results thus recommend the implementation of the CADP 3.0 strategy for both ASEAN and individual Member States.