Global Value Chain Participation and Labour Productivity in Manufacturing Firms in Viet Nam: Firm-Level Panel Analysis
Editor(s)/Author(s) :
- 28 October 2022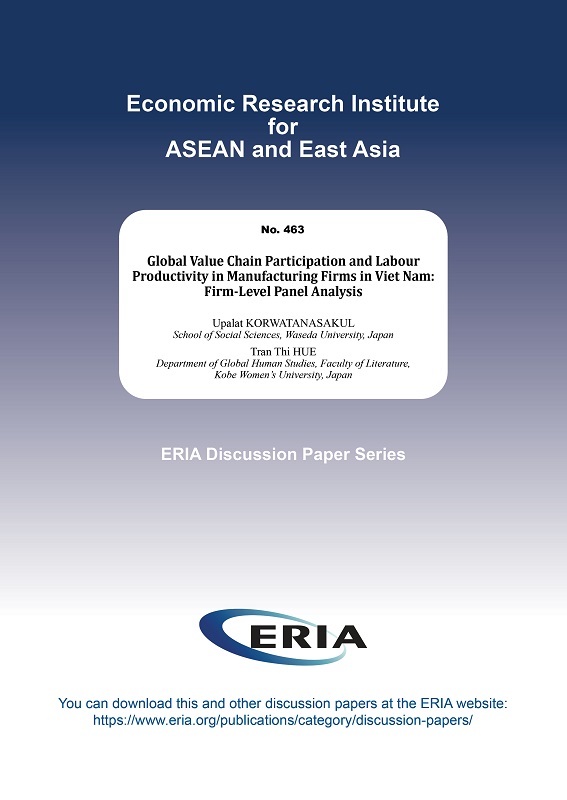 This study describes the status of global value chains (GVCs) in Viet Nam and examines the roles of GVC participation and technology in enhancing labour productivity in manufacturing firms. The estimation method is a panel fixed-effect regression employing unique firm-level data matching the Vietnam Technology and Competitiveness Survey and Vietnam Enterprise Survey, 2009–2018. The findings show the positive effect of backward GVC participation when considering firm GVC participation status (i.e. whether they engage with backward linkages). However, when accounting for GVC participation degree (i.e. GVC participation index), the results show a stark contrast, revealing the negative effect of backward GVC participation on labour productivity. The results, therefore, partly reject the learning-to-learn hypothesis. On the other hand, regardless of GVC indicators, forward GVC participation positively impacts labour productivity, confirming the views of learning-by-exporting and learning-by-supplying. The findings also suggest the significance of research and development, digital technology, and foreign investment in enhancing labour productivity. Therefore, policies promoting forward GVC participation should be the priority, while policies to promote backward GVC participation should be well designed and accompanied by policies that ensure technology transfer and domestic technology development to avoid the trap of a subordinate role.
Global Value Chain Participation and Labour Productivity in Manufacturing Firms in Viet Nam: Firm-Level Panel Analysis