Restrictiveness of RCEP Rules of Origin: Implications for Global Value Chains in East Asia
Editor(s)/Author(s) :
- 21 October 2022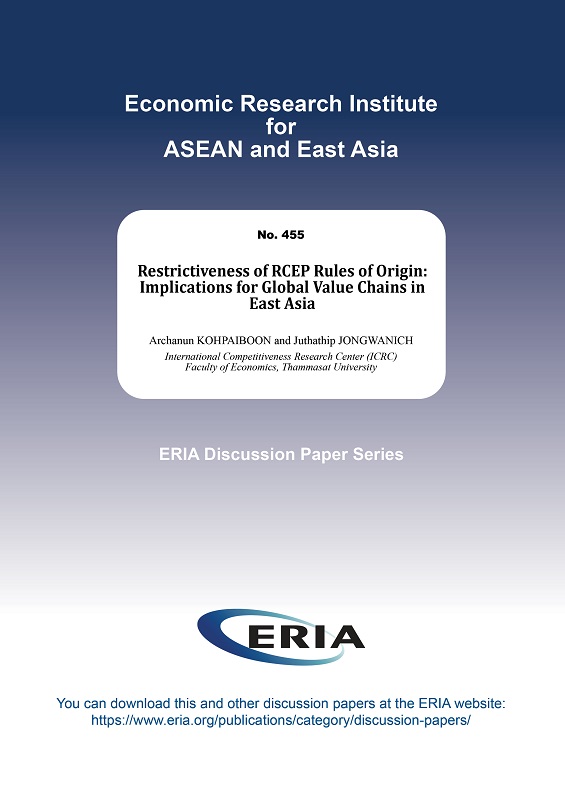 This chapter aims to examine the restrictiveness of rules of origin (RoO) in the Regional Comprehensive Economic Partnership (RCEP) and other key multilateral free trade agreements (FTAs) in East Asia with a view to facilitating the operations of existing global value chains (GVCs). The analysis begins with dissecting PSRs in the RoO Chapter in these FTAs and quantifying them. The key finding is that product-specific rules in RCEP are the most flexible compared to the other multilateral FTAs and more facilitative to GVC operations. This is driven by RCEP-specific features, such as high intra-member trade and the member coverage. The main policy inference is that a full cumulation clause is needed in RCEP to allow a regional value content alternative to be in full effect. Harmonisation in RoO provision across these multilateral FTAs remains a challenge for ongoing negotiation. Monitoring the dynamics of RoO as well as the FTA utilisation is needed so that these multilateral FTAs could be a true stepping stone for trade liberalisation in the broader World Trade Organization multilateral trading system.
Restrictiveness of RCEP Rules of Origin: Implications for Global Value Chains in East Asia